[ Crimper Series ] [ Electrician's Tool ] [ Pliers Series ] [ Tool Kit ] [ Wire Stripper ] [ Winch Series ]
HOW TO USE
WINCH A LOAD UNDER POWER
1. Put your car in neutral (never winch with your vehicle's automatic transmission in PARK, this could damage your transmission) with your Emergency Brake on. Block the wheels with rocks or wheel chock as shown in figure 7.
2. To pull out the cable, turn the clutch knob and the wing screws on the wire arranger (as figure A) counter clockwise then pull out the amount of cable you need. Always leave at least three (3) turns of cable on the drum. This will prevent the cable from pulling out of the drum under load.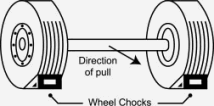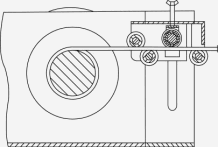 FIGURE 7 FIGURE A
3. Hook the object to be pulled as shown. Do not wrap the cable around load and hook to it. Always use a strap to insure the cable does not fray or kink. (see figure 8)
4. Keep hands and cloth away from the drum area and cable. Plug the remote control plug onto the winch first, then plug the power plug.
5. Inspect entire cable, make sure it is not fraying or kinking, short, tight, twisting or curling.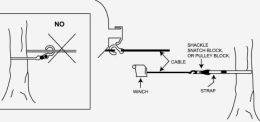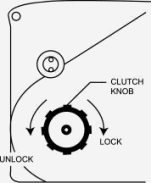 FIGURE 8 FIGURE 9
6. Turn the clutch knob (see figure 9) and the screw on wire arranger (see figure B) clockwise until tight. DO NOT over tighten or the clutch will be damaged.
Note: when the winch is working, please turn the screw on wire arranger loose.
7. Stay as far away as you can from the winch and cable. With the vehicle running, push the button on the remote control to pull the object to your car.
8. When you have finished using. Please turn the screw on wire arranger tight for arranging the wire to order completely.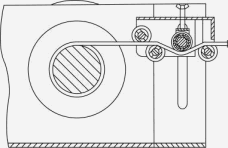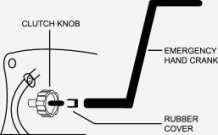 FIGURE B FIGURE 10

HOW TO USE THE EMERGENCY HAND CRANK

WARNINGS: DO NOT USE THE EMERGENCY HAND CRANK TO HELP ASSIST AN OPERATING WINCH MOTOR. THIS WILL DAMAGE THE WINCH AND RESULT IN PERSONAL INJURY. IT SHOULD BE USED WHEN POWER SUPPLY IS NOT AVAILABLE.

1. Turn the clutch knob clockwise until tight. DO NOT over tighten or the clutch will be damaged.

2. Remove the outer rubber cover.

3. Place the Emergency Hand Crank on the shaft as shown in figure 10.

4. Swing the Emergency Hand Crank clockwise to pull the load. When you have finished using, remove the Emergency Hand Crank, and replace the outer nut to lock in place.

MAINTENANCE

1. Lubricate the cable occasionally with WD40 or a similar product.

2. Grease the gears every six (6) months. To do this, remove the clutch knob and separate the left and right housing. Use any marine type grease.

¡@